>
Featuring Performances from
Elijah Divine
Ripshop
Lyrical Biz
Kinetic Dialekt
Wazir Gray
Bakari JB
Sincere
Jon Regul
Freestyle Open Mic & Beat Showcase
(Beats provided by A.Period of MAIN AIM)
Bboy Cypher, Live Art, Raffles and the first 25 people to pay at the door will receive a complimentary giftbag filled with CD's, T-shirts, Stickers, Wristbands and more!
Music by Wreck Shop DJ's Xpress, G7 and Sabertooth!
Hosted by Justice Born and Big Brotha Sadi
FoundationZ @ Club Oasis.
Mike Skillz / Andis / Risk / Reez / Hosted by MC Elijah Divine
Dubstep // Drum & Bass // Hiphop // Breaks
Open Decks 9pm – 10pm / B-Boys & B-Girls Highly Encouraged
$2 / 18+ to dance / 21+ to drink
Club Oasis
70 James St
Worcester MA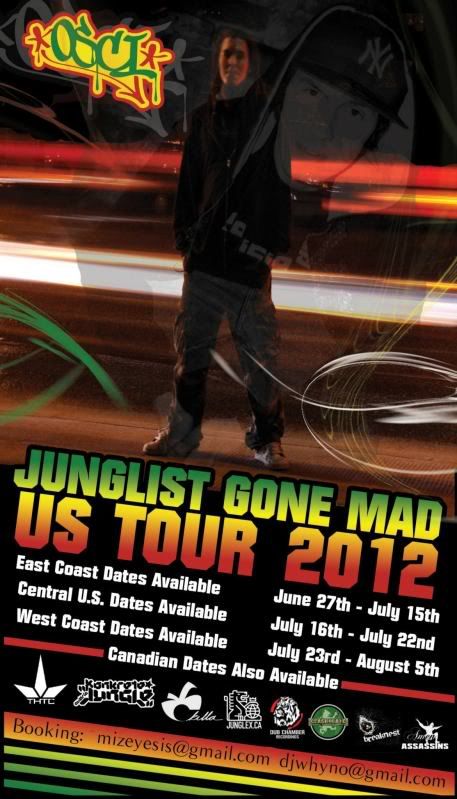 "JUNGLIST GONE MAD US TOUR 2012"
27th June – 5th Aug 2012
OSCI (Austria)
w.
MC ELIJAH DIVINE (U.S.A)

Booking contact: MizEyesis@gmail.com, DJWhyNo@gmail.com
Diode_TopRock_&_The Spaceshot Syndicate have joined forces to bring you
"FoundationZ"
Weekly event rotating DnB - Dubstep - D-u-b - Breaks - Jungle - Electro - Hiphop
First come first serve open decks. Bboy/Bgirl Battlez. Resident DJ's / MC's
Focusing completely on the foundationz and evolution of this bass culture we all love
Class is in session
Stop sleepin on the foundationzzz.
Stay tuned

HIPSTEP ZULU MASSIVE & 860 ZULU BRATZ pres:
GODFATHER OF THE HIPSTEP MOVEMENT
TC IZLAM w/ MC TRAC
JAMALSKI
DINCO D (L.O.T.N.S)
AFRIKA BABY BAM (JUNGLE BROTHERS)
HAKIM GREEN (CHANNEL LIVE)
MESZENJAH
MIZEYESIS
ELZWERTH
elzwerth: beer for foodstamps by elzwerth
JEFF AVERY
Champion Selection Vol. 2 – DrUmFuNk by Jeff Avery
ELIJAH DIVINE
SOLOSEXX
BBOY EXHIBITION BY 860 ZULU BRATZ
STARTING AT 8PM AND GOING TILL WE FEEL LIKE STOPPING.
THE DOPEST AND ILLEST JUNGLE, DNB, DUBSTEP, BREAKBEATS & HIPHOP FLAVAS.
$10 COVER, 18+ TO ENTER
4000 SQ FT HARTFORD AREA LOCATION.
FULL INFO COMING SOON.
SPREAD THE WORD AND SEE YOU NOV 19TH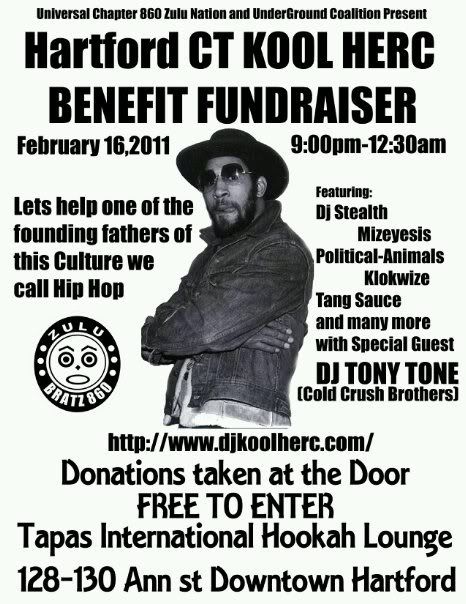 UNIVERSAL CHAPTER 860 ZULU NATION & UNDERGROUND COALITION PRESENT
HARTFORD CT KOOL HERC TRIBUTE
DJ Stealth
MizEyesis w/ Elijah Divine
Political-Animals
Klokwize
Tang Sauce
& Many More
SPECIAL GUEST:DJ TONY TONE
9PM – 12:30
DONATIONS AT THE DOOR
Tapas International Hookah Lounge
128-130 Ann ST Hartford CT
Much love to Threshold Family. Been holding down CT / New England for 6 Strong Years Now!!!!!
LOVE
Keep the torch lit.